We interrupt our normal broadcast schedule to give you this breaking announcement…
Lol – I know I would normally give you my Project Run & Play entry today, but I was honored when Allie asked me if I wanted to be featured in her weekly Making it With Allie Thursday post and jumped on it! My very first feature, I am so excited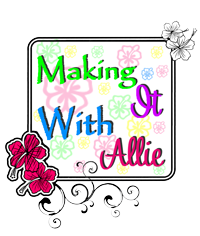 So what are we Making with Allie today? I give you the Braided Weave Belt…
Have you tried shopping for belts for kids? You are lucky to find anything without rhinestones! Lol. After seeing these in the most recent People Style magazine, I just knew I could make them for my daughter!
For your free tutorial to make your own braided weave belt, click HERE.
My daughter is absolutely thrilled with hers…
Thank you so much for having me Allie!
You may now resume your normal broadcasting schedule…Lol – my Project Run & Play entry will be up tomorrow
A Limited Commercial License is available for purchase for the Braided Weave Belts, click below for more details…
Jess Abbott the Sewing Rabbit is the founder and creative director behind the me sew crazy blog, as well as SewSet.com, 5 & 10 Designs, GNO Events, and co-editor of STYLO. She resides in Virginia Beach with her husband and 3 children.