After getting compliments for the headband my little girl was wearing during the Gathered Collar Shirt Photo Shoot, which was store bought mind you, I decided to take a closer look at it…
So simple, I know. And better yet, one of the few tutorials that doesn't include a single lick of sewing – just hot glue.
To make your own Ribbon Loop Headband, click HERE.
Enjoy!
This headband has been featured at: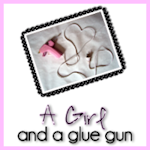 Jess Abbott the Sewing Rabbit is the founder and creative director behind the me sew crazy blog, as well as SewSet.com, 5 & 10 Designs, GNO Events, and co-editor of STYLO. She resides in Virginia Beach with her husband and 3 children.