I have been meaning to try my hand at metal frame purses for some time now…and while browsing through People's Style magazine, I came across a metal frame purse with a big huge bow on it! It pushed me over the edge :).
Sure – the purse in question was only around $30 from JCPenny, but what fun is there in that?! And who doesn't want a big, huge bow on the front of their purse?!! It says I am fun and flirty, and don't care who knows it! Lol, well, at least that's what it says to me :).
Thanks to Google, I was able to find a great tutorial for making metal frame purses. All I needed to do was figure out how to attach a BIG bow to it :).
For the free BIG Bow tutorial, click HERE. Have fun with it!
Oh…and PS – I would NOT recommend hot glue for this, don't even get me started on THAT story!!! Lol
Happy Sewing
This purse has been featured at: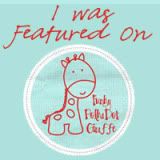 Jess Abbott the Sewing Rabbit is the founder and creative director behind the me sew crazy blog, as well as SewSet.com, 5 & 10 Designs, GNO Events, and co-editor of STYLO. She resides in Virginia Beach with her husband and 3 children.